---
J&M Diamond Tool, Inc.
Hard Turning Solutions
(Working with CBN )

---
Hard turning problems find easy solutions with CBN inserts. We offer a wide selection of grades, shapes and sizes.
If you have special need, our technical service department will provide further solutions, and we can manufacture to your specifications.
Cubic Boron Nitride
Cubic boron nitride (CBN) is an artificially synthesized material exceeded in hardness only by diamond. Unlike diamond, CBN is stable under conditions of high temperature (up to 1000 degrees C) normally created when machining hardened ferrous or super alloy materials.
Like polycrystalline diamond, CBN is available in many shapes and sizes. Discs are available up to 60 mm diameter and in different grades for different applications.
CBN tools permit metal cutting at feeds and speeds much higher than with conventional cutting tool materials. CBN tools also turn, bore and face hard materials, which otherwise can be formed only by grinding. Because CBN tools maintain a sharp cutting edge, surface finishes are excellent, close tolerances are easy to maintain, and dramatic productivity increases can be expected.
---

CBN Inserts

Mini Tips
Flip Tips
Standards
Inexpensive. In many shapes and grades for shallow cuts
Cost-effective. Two cutting edges for finish cuts. Flip Tips is a trademark of J&M Diamond Tool, Inc.
A wide assortment of shapes and grades

Large Tips
Solid CBN
Full Face
For deeper cuts. - Available on most standard inserts
Cutting edges on both sides. Indexable.
Cutting edges. Full top surface Indexable.
---
---
Materials recommended for cutting with CBN:

| | | | |
| --- | --- | --- | --- |
| Alloy steel (45-68 RC) | Ni Hard | Die steel (45-68 RC) | Rene |
| Carbon tool steel (45-68 RC) | Forged steel | Stellite | Ductile iron |
| Moly chrome steel rolls | Nodular iron | Colmonoy | Incoloy |
| High speed steel (45-68 RC) | Grey iron | Waspoloy | Monel |
| Chilled cast iron | Inconel 600 | Meehanite iron | |

CBN Grades Available

| | |
| --- | --- |
| - Grade - | Application |
| 1000 | Most cast iron |
| 2500 | Continuos cutting hardened steel and slight interrupted cuts. |
| 3000 | Hardened steel ( severely interrupted cut ) |
| 5000 | Nodular iron - Ductile Iron |
| 6000 | Super alloy, Ni/Co base alloys |
| 8200 | Continuos cutting hardened steel and slight interrupted cuts |
| - | Other special grades available |

Edge Preps
A standard edge prep is put on all inserts.
Special edge prep is available for special applications.

| | | | |
| --- | --- | --- | --- |
| Grade | Angle | Width | |
| Grade 1000 | 15o K Land | .002 - .004" | No hone |
| Grade 2500 | 25o K Land | .004 - .006" | Light hone |
| Grade 3000 | 25o K Land | .004 - .006" | No hone |
| Grade 5000 | 15o K Land | .004 - .006" | No hone |
| Grade 6000 | 20o K Land | .004 - .006" | Light hone |
| Grade 8200 | 25o K Land | .004 - .006" | Light hone |

Recommended Use of CBN Grades

| | |
| --- | --- |
| Material | CBN Grades |
| Alloy steels ( 45-68 RC ) | 2500, 3000, 8200 |
| Carbon tool steels ( 45-68 RC ) | 2500, 3000, 8200 |
| Die steel ( 45-68 RC ) | 2500, 3000, 8200 |
| High speed steel ( 45-68 RC ) | 2500, 3000, 8200 |
| Chilled cast iron | 1000 |
| Nodular cast iron | 5000 |
| Ni Hard | 1000, 6000 |
| Forged steel | 2500, 8200 |
| Moly chrome steel rolls | 6000 |
| Inconel 600 | 6000 |
| Rene | 6000 |
| Incoloy | 6000 |
| Monel | 6000 |
| Stellite | 6000 |
| Colmonoy | 6000 |
| Waspoloy | 6000 |
| Nodular iron | 5000 |
| Ductile iron | 5000 |
| Grey iron | 5000 |

Recommended Speeds and Feeds

Material

Speed
(SFM)

Feed Rate
(IPR)

Depth of
Cut (inches)

Carbon Steel

200 - 500

.008 Max

.020 Max

Bearing Steel

200 - 500

.008 Max

.020 Max

Alloy Steel

200 - 500

.008 Max

.020 Max

Die Steel

160 - 350

.008 Max

.020 Max

Tool Steel

160 - 350

.008 Max

.020 Max

High Tensile Cast Iron

200 - 500

.060 Max

.020 Max

Chilled Cast
Iron

130 - 260

.032 Max

.020 Max

Grey Cast
Iron

2000 - 4000

.020 Max

.020 Max

Powdered Metal

500 - 650

.016 Max

.020 Max

Inconel

500 - 650

.006 Max

.020 Max

Rene 42

500 - 650

.006 Max

.020 Max

Rene 77

450 - 550

.006 Max

.020 Max

Incoloy

750 - 900

.006 Max

.020 Max

Monel

550 - 650

.006 Max

.020 Max

Stellite

550 - 650

.006 Max

.020 Max

Colmonoy

550 - 650

.003 Max

.020 Max

Waspoloy

550 - 650

.003 Max

.020 Max
---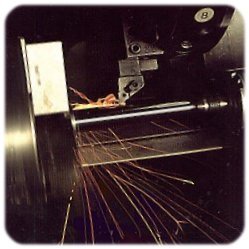 CBN Insert turning Harden Shaft
---
---
Copyright © 2000-2006 by J & M Diamond Tool, Inc.All Rights Reserved

Updated 22 June 2006